Kevin Cobbold Funeral Services
Independent Funeral Directors in Norwich
We are an independent family run funeral directors based in Hellesdon, serving Norwich and Norfolk. We are close to St Faith's Crematorium, Earlham Crematorium, Greenacres Colney Wood Burial Park and Norfolk Bluebell Wood Burial Park, but we have carried out funerals nationwide.
We offer you a personal 24 hour funeral service carried out with dignity and compassion.
As experienced funeral directors, we carefully look after your needs from your first contact right through until the funeral process is complete.
We are proud to have been one of the top three funeral directors in Norwich for the last five years.
Privately Owned Family Company of Funeral Directors
We are a privately owned family company. Our owners are husband and wife Kevin Cobbold Dip FD Dip FSM MILM and Ann Cobbold BA Hons (1st) PGCE. We offer a sensitive and dignified funeral service to help support you through a difficult time and provide you with peace of mind.
Kevin has over two decades of experience working in the funeral business and Ann has 9 years of experience.
Kevin holds the Diploma in Funeral Directing and the Diploma in Funeral Service Management.
Kevin's Beliefs
Kevin holds three fundamental beliefs as a result of his time in the funeral industry.
They are:
Firstly, one dedicated person will look after you throughout the difficult time of the death of a loved one so that the bereaved family and friends receive a personal service with dignity.
Secondly, he believes that bereaved people should never need to spend more than they can afford and all costs will be made completely clear from the start.
In addition, he believes that you should be able to speak to a member of Cobbolds staff 24 hours a day, 7 days a week if someone has died.
Top 3 Funeral Directors in Norwich
For instance, for the fifth year running, Kevin Cobbold Funeral Services Ltd received the designation of being one of the Top 3 Funeral Directors in Norwich.
This recognises us for providing consistent high-quality service in funeral directing.
The review team used a rigorous 50-Point Inspection which includes everything from checking reputation, history, complaints, ratings, satisfaction, trust, cost and general excellence.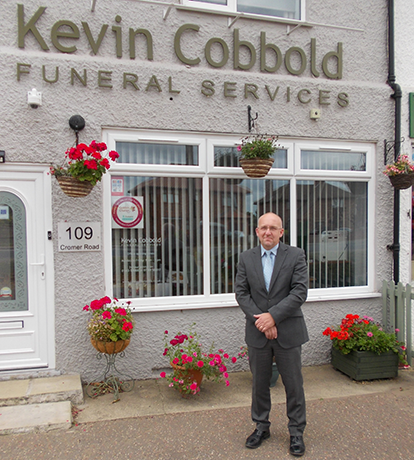 Kevin Cobbold Norwich Funeral Director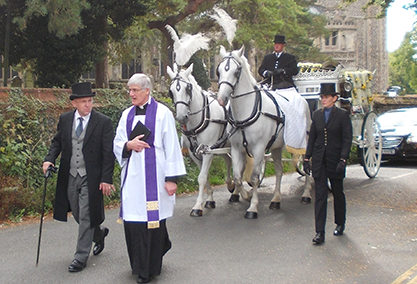 Funeral Services - How We Work
At Kevin Cobbold Funeral Services we can arrange everything in your own home if you prefer not to come into our funeral home.
We never charge extra for any personal services such as this.
Kevin Cobbold Funeral Services are independent funeral directors in Norwich and we do not have a board of directors to finance.
In these challenging times we make sure we offer affordable funerals.
As part of or service we will tailor the type of funeral to your individual needs and above all we will never try to sell you anything that you do not need.
We also offer funeral plans covered by the new government legislation if you would like to plan in advance.
In sum, we offer a 24 hour service manned by our own people, not by an agency or an anonymous voice. Therefore, we get to know you and your family personally throughout.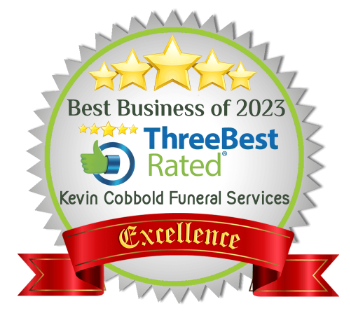 Kevin Cobbold Funeral Services - Top 3 Funeral Directors in Norwich
Our Funeral Costs
Our standard funeral costs £1,795.00 plus third party fees. A direct cremation costs £1,055.00 including third party fees.
Optional additional costs are:
Hire of a limousine: £160.00
Orders of Service from £35.00
Church Service before Committal: £75.00
Taking coffin to home or Church the day before the funeral: £160.00
Taking names of mourners: £45.00